Education
Ministry of Religion Gives Award to the Teachers in the Moment of National Teacher's Day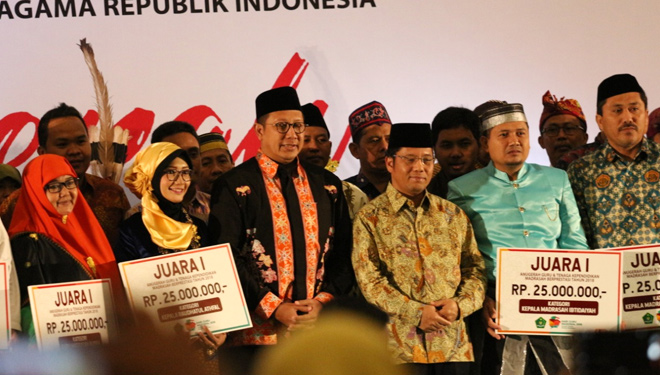 TIMESSINGAPORE, SURABAYA – The Ministry of Religion of the Republic of Indonesia gave awards to the achieved teachers from Madrasah all over Indonesia. The award given symbolically during the peak event of the 2018 National Teacher's Day (HGN) commemoration at Dyandra Convention Hall, Basuki Rahmat street, Surabaya, on Sunday (25/11/2018) night.
The award was given directly by the Minister of Religion, Lukman Hakim Saifuddin. There were 55 people consisting of teachers, principals, and education personnel who received awards from the Ministry of Religion.
The recipients of this award are Istikomah (Muslimat RA teacher NU Masyitoh, Pabean, Central Java), Alpirudiwan (teacher of State Madrasah Ibtidaiyah 3 Malang City), Muhammad Hatta (Teacher Madrasah Tsanawiyah 38 Jakarta), and Nurchaili (teacher MAN 4 Aceh Besar).
Minister of Religion Lukman on his speech said that this award is a form of attention and part of fostering teachers within the Ministry of Religion. "Teachers are important key holders who form our generation in the future," he said.
Minister of Religion confirmed, currently educators are facing very serious challenges. Therefore teachers as educators are required to pay more attention to the dynamics of globalization and technological disruption.
Regarding the phenomenon of students who are familiar with the device and various means of learning, the teacher must be able to confirm the position of students to remain in the religious identity of the Indonesian nation.