Education
The Students of UIN Malang Ran Foreign Language Tutoring Program in Toyomarto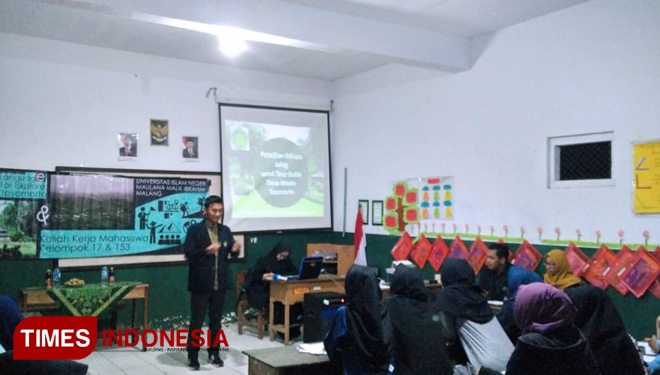 TIMESSINGAPORE, MALANG – The students of UIN Malang were performing Student Study Service (KKN). Group 17 and Group 153 were giving their contribution in Toyomarto Village as a tourism village. This village is located in Singosari sub-district, Malang.
This area has several worth-visiting tourism destinations, such as Sumberawan Temple, Kebun Teh Wonosari, swimming pool, Budug Asu, and Home Industri Cobek dan Sandal Spons.
In performing the student study service, the students of UIN Malang ran a foreign language and tour guide tutoring program for the residents of the village. This program focused on training the foreign language for tourism and tips for becoming a good tour guide. The materials were delivered by the students of UIN Malang, Irfan Hanify Salim and Fathimah Cahya Raudha.
This tutoring was divided into three sessions. The first and the second sessions were held in Al-Maarif Miftahul Huda Foundation classroom. Meanwhile, the third session was held in Sumberawan Temple. On Sunday (21/01/2019), the first session focused on introduction to tourism and the tips for becoming a good tour guide.
The second session was held on 22 January, which focused on the English conversation about tourism. The third session was held on 25 January, which focused on the practice of being a good tour guide in Sumberawan Temple.
This event was participated by the representatives of the villages in Toyomarto, some youths and some adults. This event aimed to encourage Toyomarto Village to be more enthusiastic in improving the potential of the village as a tourism village by UIN Malang. (*)