Economy
Ombudsman RI: Jokowi's Government is the King of Import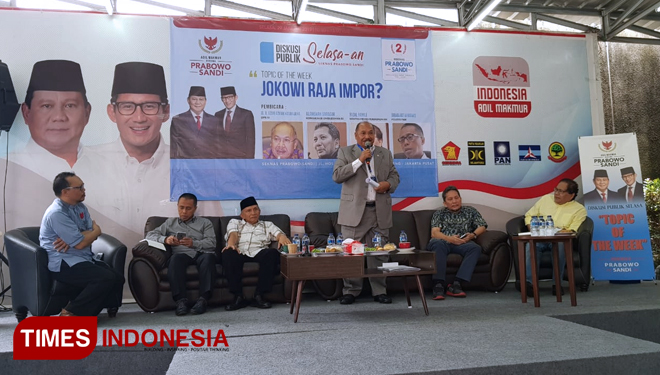 TIMESSINGAPORE, JAKARTA – Ombudsman RI, as the state institution which hears and investigates complaints of society, assesses that the Government of President Jokowi is as the King of Import, for the commodities of rice, corn, salt and sugar. This is compared to the previous government, namely President Susilo Bambang Yudhoyono (SBY).
According to the Ombudsman RI commissioner, Alamsyah Saragih, the data on rice imports during Jokowi's administration since 2015 has amounted to 4.7 million tons. The data is lower than the number of imports at the same commodity in the era of SBY's government, which reached 6.5 million tons.
"Is this import then become a problem? It depends on the choice of each policy. 6.5 million tons was in five years. While 4.7 million was in four years. I do not know it will increase again on the next year. If it increases, so it can be the same, it can be more, "he said, Jakarta, Tuesday (29/1/2019).
While for sugar commodities, the SBY government reached 12.7 million tons. In the four years period, Jokowi's leadership experienced an increase of 4.5 million tons from total imports amounted 17.2 million tons. "So the difference is more on the government of Pak Jokowi that is about 4.5 million tons," Alamsyah said.
Likewise, the data import of corn commodities during the four years of Jokowi's government still continues to rise up compared to the era of SBY's leadership. This is because the government substituted corn imports with wheat in 2015. "So, in my opinion, it is basically import," he said.
As for salt commodities, Jokowi's government import data isn't much different from import policies with other commodities. That is, if compared with the SBY government it is still much higher.
"In the government of the President Republic of Indonesia, Jokowi (import of salt) is still much higher than the government of Pak SBY. So if we may say for those four commodities, the score is 3-1. If the question is who imports more?" Alamsyah said, Ombudsman RI commissioner. (*)