Life Style
BlueBerry Guitar, the Masterpiece of Indonesia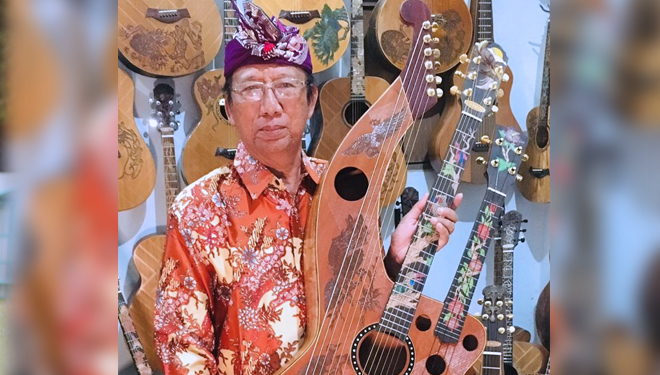 TIMESSINGAPORE, DENPASAR – BlueBerry Guitar is one of the masterpiece of Indonesia, made by a Balinese luthier, I Wayan Tuges. This guitar has got famous overseas and it has been used by Indonesian and foreign musicians.
The foreign musicians that have been using this carved guitar are Paul Deslaurier, Golden Earing Band, and George Kooymanns. Meanwhile, the Indonesian musicians that have been using this guitar are Iwan Fals and Dewa Bujana.
Even the sixth President of Indonesia, Susilo Bambang Yudhoyono, used to order the guitar that is made by the luthier from Guang Village, Gianyar, Bali.
Each guitar is ornamented by different carvings. In the carving, Wayan Tuges displays the splendor of Indonesian nature, particularly the Balinese symbols, such as Bali Starling.
BlueBerry Guitar also becomes the cultural icon of Indonesia. Wayan Tuges also collaborated with Doddy Hernanto, who is also known as Mr. D, to add some technological features.
The collaboration between Wayan Tuges and Mr. D produced a new masterpiece, which is called BlueBerry Gitar Gawai, also known as BlueBerry G2. Another feature of this guitar is its head neck that is equipped with the robotic tronical tune. Just like the previous guitar made by Mr. D, BlueBerry G2 is connected to iPhone gadget and App Store.
In its development, Wayan Tuges's guitar has inspired any people to improve Indonesian cultures.
The Operating Director of BYU, Dian Desiana, stated, "As it is said by Kahlil Gibran, 'Music is the language of the spirit. It opens the secret of life, brings peace, and abolish any conflicts'."
That's why, Berry Biz, the part of creative business center in Bali, feels honored to become the home of the BlueBerry Guitar icon made by Wayan Tuges.
"When we see the guitar, we are not only talking about the music instrument, but also talking about masterpiece. This is the result of love and creativity in synergy," she said.
Dian also expressed her gratefulness and appreciation towards Wayan Tuges, who has always been exploring his creativity for Indonesia. According to her, Wayan Tuges's guitar is one of the masterpieces of Indonesia that could inspire the world.
"Thank you, Pak Wayan Tuges, for always inspiring us to create masterpiece," she added.
Besides making carved guitar, Wayan Tuges used to receive an order from a world-famous band, Walk Off the Earth. This order was considered unique because it combined five music instruments into one, which are guitar, harp, ukulele, kalimba, and washboard. This instrument is called as 'Guiharpulele'.
This instrument is successful to become the monumental masterpiece in the world.
One of the I Wayan Tuges's carved guitars would be place in Hotel Berry Biz Bali, which is also the area of TIMES Indonesia office in Bali. BlueBerry Guitar is expected to be able to inspire the guests visiting Hotel Berry Biz Hotel. (*)