Education
Unesa Participated in Indonesian Robotic Competition 2019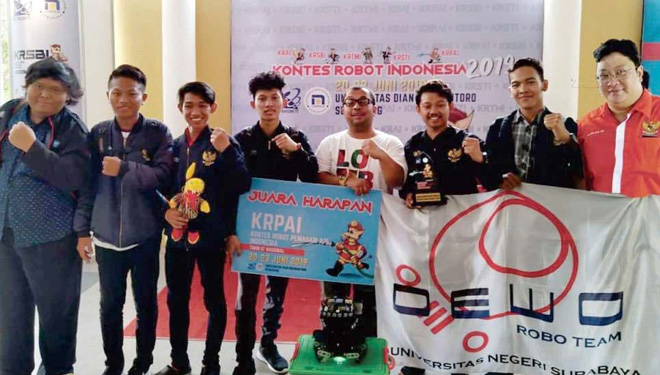 TIMESSINGAPORE, SURABAYA – Unesa Surabaya (Universtas Negeri Surabaya) a.k.a State University of Surabaya managed to be at a good position at the National Kontes Robot Indonesia (KRI) or the Indonesian Robotic Competition 2019 at the Universitas Dian Nuswantoro (Udinus) Semarang, 20-23 June 2019.
"We are not at the first position, yet we are so proud to be able to be in the 16th position of 64 universities across Indonesia that participated in the contest," Dedy Rahman Prehanto, PIC Robot Unesa said on Wednesday (3/7/2019).
Still according to him, Unesa had sent 4 of their Robotic competition team to participated in this contest. Azzahraly team for DANCING robot, Dewayani team for the walking fire fighter robot, Akselero team for thematicrobot and Rengganis team Indonesian ABU robot.
In addition, it's a relieve for Unesa to see the Azzahraly team getting the 16th position leaving their rivals behind. Meanwhile the Akselero and Rengganis team managed to be on the top 32. And Dewayani team managed to get the runner up position.
"The walking fire fighter robot is designed to help the fire fighter to detect, find, and help them to defuse the fire. The robot needs to find where the fire is and defuse it then go back to the place where its begin," Dedy Rahman Prehanto, PIC Robot Unesa said. (*)