Life Style
The 5th Anniversary of Gourmet Sate House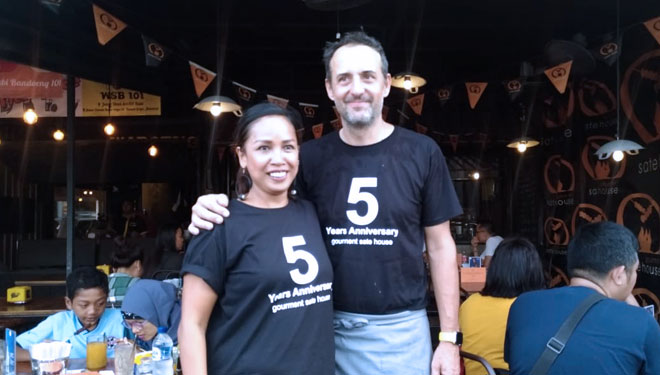 TIMESSINGAPORE, DENPASAR – Gourmet Sate House which has satay as their signature main dish had just celebrate their 5th anniversary. Located at Jalan Dewi Sri Kuta this place has always attracted so much attention from the visitors.
On its 5th anniversary, Santi and Klaus Ulrich the owner of this restaurant invited lots of guest to have some good and wine tasting. The tried to introduce the local Balinese wine, the Plaga to their customers.
"We have the special lamb satay. We took the lamb directly from Australia. And it has a premium quality. Plus we dont use any addictive ingredients or fats, and we also made our own special peanut sauce. So, we can guarantee you the quality" Klaus said.
In addition, he also said that the restaurant could spend around 30kg of lamb in a month. Its tasty, soft and moist texture has attracted so many people to come back or at least try it.
Meanwhile, chicken satay, beef satay, mutton satay and seafood satay are also served at this restaurant. You could also have the famous Indonesian nasi goreng or the fried rice and some salad if you like.
The Gourmet Sate House will be open by 12.00 to 24.00 local western time daily. They planned to open a new restaurant at Ubud in a mean time. This satay house will always try to satisfied their customers with all their dishes.(*)