Travel
Rooftop Delobby Suite Hotel Batu Shows the Beautiful City View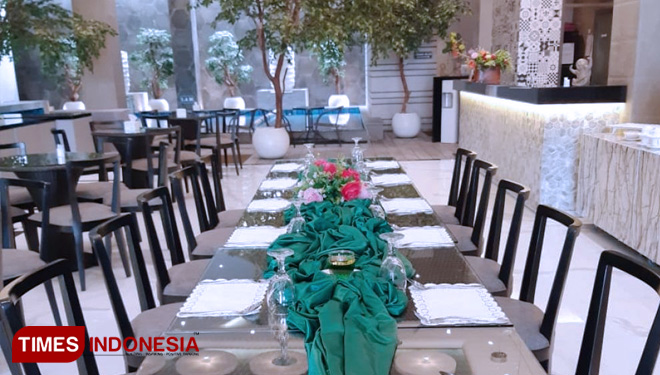 TIMESSINGAPORE, BATU – No wonders why Batu is considered as the most attractive tourism city as it has a very scenic panorama that can captivate the visitors coming to this place. The good thing is, now you can enjoy the beautiful city view from the rooftop of Delobby Suite Hotel Batu.
Located in the seventh floor, it gives you the best view of Batu city. This place is very suitable for various events, such as candlelight dinner, gala dinner, gathering, morning exercise, or fun game.
With the maximum capacity of 80 people, Rooftop Delobby Suite Hotel provides some choices of package, such as:
1. Candlelight Dinner Package, starting from IDR 300,000 for two persons.
2. Gala Dinner, starting from IDR 75,000 per person.
3. Coffee Break, IDR 35,000 per person
4. Morning exercise, starting from IDR 700,000 for one hour
Rooftop Delobby Suite Hotel is also suitable for engangement party, birthday party, wedding reception, and so on. Delobby Suite Hotel has provided the decoration for any events, but you may also use the service of your trusted decoration vendor.
With the fresh, cold atmosphere from Batu city and the view from the rooftop, your special occasion will be more memorable.
Besides rooftop, Delobby Suite Hotel also has some alternatives place for gathering, such as Delobby Hall and Delobby Resto. These two places are equipped with podium and stage that can make your prom night event more spectacular. Located in the first floor of the building, Delobby Hall and Delobby Resto are connected into the indoor pool. With the maximum capacity of 200 people, Delobby Resto becomes the second most favorite venue.
The interior is minimalist and modern, ornamented with some foliage that gives the fresh atmosphere to the restaurant. This place will make anyone feel comfortable spending their time here.
Make sure your events become memorable with Delobby Suite Hotel Batu. (*)