Education
ITNY Holds Taiwan and Malaysia Energy Experts on Their International Conference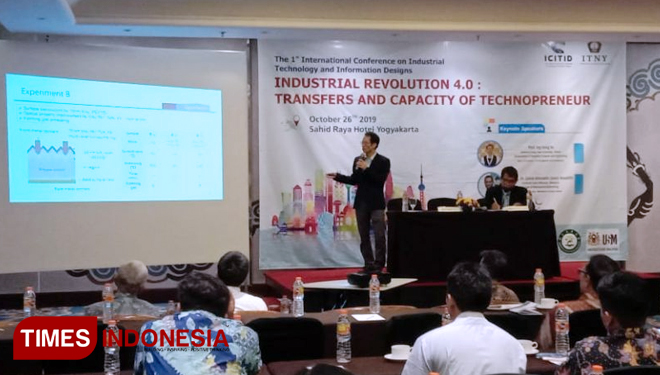 TIMESSINGAPORE, YOGYAKARTA – Institut Teknologi Nasional Yogyakarta (ITNY) holds several energy experts from Taiwan and Malaysia on their 1st International Conference on Industrial Technology and Information Design (ICITID) at Hotel Sahid Babarsari, Depok, Sleman, Yogyakarta.
The event which was held on Saturday (26/10/2019) took Industrial Revolution 4.0: Transfers and Capacity of Technopreneur as their main topic. The seminar was followed by several lecturers of ITNY, ITB, Universitas Diponegoro Semarang, and many more.
"This seminar was aimed to enlarge the ITNY's lecturer's as well some other lecturers from another universities's knowledge who joined the occasion by holding foreign energy experts," the Rector of ITNY, Dr Ir Ircham MT said.
Prof H Zainal Alaudin a professor at Universitas Sains Malaysia said that they have starting to sort the trash into two different elements, the organic and non organic. In order to create an alternative energy, the prof said that they use the organic waste to be turned into some electricity and other use.
Still according to him, the Malaysian community has slowly arise their awareness towards the issue where fossil fuels someday will be vanished and that human can't recycle it no more.
In another hand, Prof Ing Song Yu from National Dong Hwa University (NDHU) Taiwan appreciate the seminar so much. He loves the topic brought up on the seminar since it has become a major issue in the whole world.
The professor took renewable energy, solar cell, and energy storage (battery) as his main issue on the seminar. "Indonesia is a big country with a wide area which is very suitable for a solar panels installation," he said.
For your information, ITNY has been cooperated with National Dong Hwa University of Taiwan since 2015. The seminar was one of the manifestation of the cooperation itself. Both of the universities are planning to add more cooperation in some researchs and publications in the mean time. (*)