Sports
MotoGP Season 2020 Start on 8th March 2020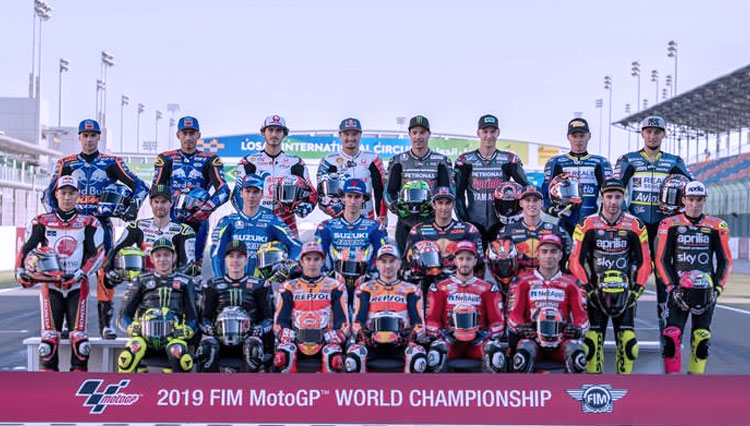 TIMESSINGAPORE, JAKARTA – MotoGP Season 2020 will be started 8th March 2020. This will be the longest season, as there will be 20 series with the entry of Finland MotoGP after 38 years of absence.
A total of 22 riders from 11 teams will certainly take part in the MotoGP 2020 series, both the satellite team and the manufacturer's team.
Most of the riders will be the same as the riders from MotoGP 2019.
The first series will be organized in the night at Losail International Circuit, Qatar and is on-air and can be seen on TV in Indonesia early in the morning.
In addition to the entry of the Finland MotoGP series, there were also several schedule changes such as the Thailand MotoGP series which will be scheduled in the 2nd series after Qatar's MotoGP series.
Besides, in the upcoming season, there will be new regulations, such as:
First, all debutant racers or rookies are allowed to take part in the Shakedown test organized in Japan for 3 days straight.
Second, all aerodynamic devices must be unmounted in extreme weather, especially if strong winds occur. This regulation reflects on the recent incident of the crash of rider Miguel Oliveira in Australia MotoGP, where at that time Oliveira was hit by a very strong wind from the right side and made him crash at a very high speed.
Aerodynamic devices are very useful, but can also be a boomerang for the rider under certain conditions such as Oliveira's case.
Third, the wild card regulation for Moto2 class in the MotoGP season 2020 will be returned, but only for manufacturer's teams. This regulation was removed in the previous season due to the limited availability of motorcycles.
But there's one thing for certain, that MotoGP 2020 will be the longest MotoGP season with 20 series. This is the schedule for the MotoGP 2020:
Series 1 - 8/3/2020 Qatar Losail International Circuit
Series 2 - 22/3/2020 Thailand Chang International Circuit
Series 3 - 5/4/2020 Americas Circuit of the Americas
Series 4 - 19/4/2020 Republica Argentina Termas de Rio Hondo
Series 5 - 3/5/2020 Spain Circuito de Jerez – Ángel Nieto
Series 6 - 17/5/2020 France Le Mans
Series 7 - 31/5/2020 Italia Autodromo del Mugello
Series 8 - 7/6/2020 Catalunya Barcelona - Catalunya
Series 9. - 21/6/2020 Germany Sachsenring
Series 10 - 28/6/2020 Netherlands TT Circuit Assen
Series 11 - 12/7/2020 Finland KymiRing
Series 12 - 9/8/2020 Czech Republic Automotodrom Brno
Series 13 - 16/8/2020 Austria Red Bull Ring-Spielberg
Series 14 - 30/8/2020 Great Britain Silverstone
Series 15 - 13/9/2020 San Marino & Riviera di Rimini MWC Marco Simoncelli
Series 16 - 4/10/2020 Aragón MotorLand Aragón
Series 17 - 18/10/2020 Japan Twin Ring Motegi
Series 18 - 25/10/2020 Australia Philip Island
Series 19 - 1/11/2020 Malaysia Sepang International Circuit
Series 20 - 15/11/2020 Comunitat Valenciana Comunitat Valenciana-Ricardo Tormo. (*)